IEPS is a shareholding company started in Egypt in 2008 by a key person that has a wide range of experience in the largest companies for oil field services like SLB, HAL, BAKER, and Weather-ford.
The idea of starting up this business originated from the that most of the international O&G companies hardly find a certified facility to renew and re-certificate with liability for WHE's, Valves, HPU's, BOP's, Koomey unit, Chock Manifold….Etc.
They found a big organization with a long waiting list, priorities, and very expensive or very low-profile facilities that away from quality satisfaction.
We take the action to do a mid-range facility named IEPS to provide the needs of high services quality with low prices considering the timely manner the IEPS team knows very well from the experiences accumulated in the oil field services.
Now we can say Welcome to IEPS your number one source and services company for everything related [Calibration, Pressure testing, Recertification for O&G pressure control units, Repair, and liability for Gas & fluid transfer and control].
We're dedicated to giving you the best and flawless service with providing 24/7 focus on four characteristics that came from our expertise who talking the same languages of the O&G field and know very well your operation's needs:
No loss of productivity
No loss of profitability
No loss time
No Delay 24/7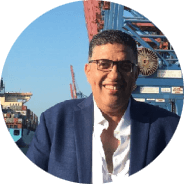 Sincerely,
Mourad Elsawy
CEO & Managing Director